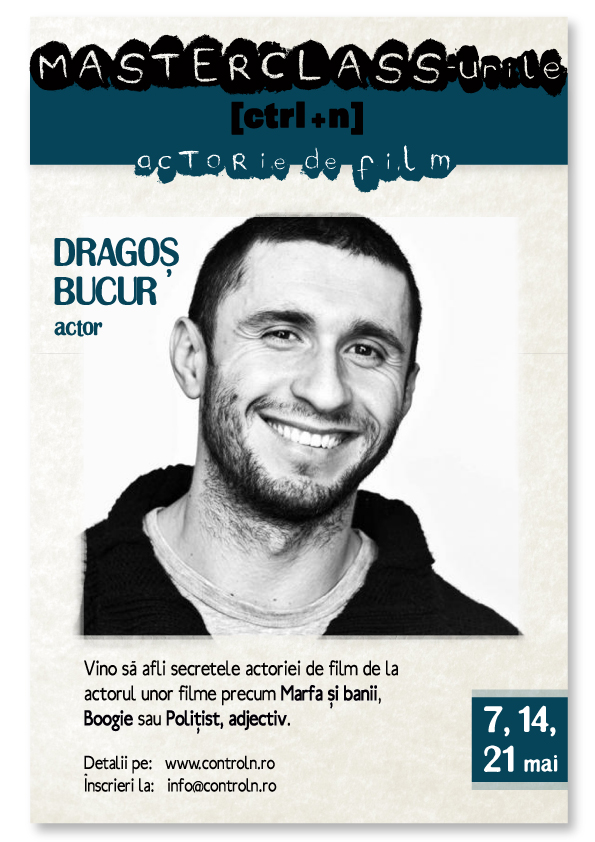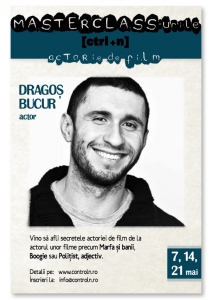 DRAGOS BUCUR MASTERCLASS
ACTING FOR FILM
The fourth Control N masterclass is dedicated to those interested in acting for film, the mechanisms and the secrets of working as an actor on set. Throughout the three meetings, the participants will be able to debate this widely together with one of the most known and appreciated young actors in Romania.
Dragos Bucur proposes different topics for discussions, based on his experience in film. He will be talking about acting as a profession, not just a passion. About how you can transform your passion in a way of being. About how you can self-teach yourself in acting for film and it is just starting to be studied in acting schools in Romania. Discussion will go around the status of the actor in Romanian cinema and abroad, the differences between European cinema and American cinema. There will be question raised: how difficult is it to be a film actor in Romania? What are the steps towards doing this job abroad? What are the chances for a professional actor to live off acting alone and what are the most frequent compromises actors need to take?
Dragoş Bucur is a graduate of the National University of Theatre and Film in Bucharest (UNATC) – Acting department. After his graduation in 1999 he started acting in Podul Theatre, under the supervision of Catalin Naum. For five years, he acted in several plays and taught acting in theatre and film schools. His first film parts were in Cristi Puiu's Marfa si Banii, selected in Quinzaine des Réalisateurs, Cannes in 2001, and in Radu Muntean's Furia, for which he was awarded Best Actor by the Romanian Filmmakers' Association. 

Dragos acted in Radu Muntean's next films, The Paper Will Be Blue (2006), Boogie (selected in  Quinzaine des Réalisateurs, Cannes, 2008) and Tuesday after Christmas (2010). For his main part in Boogie he received the Gopo Award & UCIN Award for best actor. His main part in Corneliu Porumboiu's Police, adjective (2009) – Jury Prize and FIPRESCI Prize in Un Certain Regard in Cannes, also brought him a Gopo Award for best actor. He has worked with directors like Peter Weir (The Way Back, 2010), Peter Mulen and Terry Loyd (The Fear, 2012), Szabolcs Hajdu (Miraje, 2014).
In 2010 he founded the acting school – Actoriedefilm.ro, together with actors Alexandru Papadopol and Dorian Boguta. In 2013 he acted in Iulia Rugina's Love Building, together with 31 graduates of his school.
Meetings: May 7,14,21, 2014