FILM PRODUCTION MASTERCLASS
WITH PRODUCER ADA SOLOMON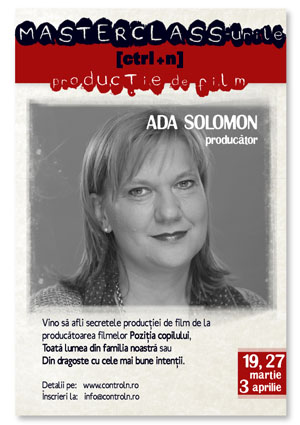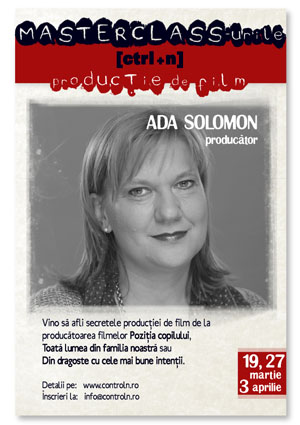 The third Control N Masterclass is dedicated to those with a passion or interest in film production. Throughout the three meetings, on March 19, 27 and April 3, 2014, the participants will be able to access valuable information with the help of Ada Solomon, one of the most active Romanian producers. She will discuss different themes and questions related to film production:
March 19: What does a film producer do? What is his/her role in transforming an idea into a film? How do "the stars align" in a film constelation? How do you finance the next film or, better said, how do you sell (and buy) a film project? What is the resemblance between film work and construction work (who are the architects and who are the engineers)? What are the differences between the American funding system and the European one? What are the differences between financing an art-house film and a commercial film? Short analysis between gourmet-film and fast-food film.
March 27: How do you make a film? What are the costs and how does the production process work? What are the main pillars in pre-production, shooting and post-production? What are the compulsory native gifts for a member of a shooting team? What are the subjects you study at school that are useful in cinema and why?
April 3: Who is getting rich from filmmaking? What is the cinematographic route of a film once it is ready to be launched? How can a film stand out of the thousands that are released in the world anualy? Is there a recipe for success? What are the challenges for a producer and distributer today, compared to those 10, 20 or 50 years ago?
Ada Solomon was born in 1968 and she started her career in the Romanian film industry over 20 years ago.
Throghuout the years, she has worked as line producer for several international productions such as Callas Forever (directed by Franco Zeffirelli), Offset (directed by Didi Danquart) or Tom Sawyer and Huck Finn (directed by Hermine Huntgeburt).
In 2004 she founded her own production company, which produced short and feature films, both fiction and documentary, extremely appreciated in international festivals and winners of important awards. Among them, the medium-lentgh film Marilena from P7 (directed by Cristian Nemescu), the short film Tube with a Hat (directed by Radu Jude), debut features of directors like Radu Jude – The Happiest Girl in the World, Melissa de Raaf and Razvan Radulescu – First of all Felicia, Paul Negoescu – A Month in Thailand or the documentaries directed by Alexandru Solomon – Kapitalism – our secret recipe, Driver's Apocalypse or Cold Waves. 

The films Ada Solomon produced were screened and awarded in multiple prestigious festivals such as Berlinale, Cannes, Venice, Sundance and Ada's portofolio, as a producer, includes more than 100 awards. She has also collaborated, as a co-producer, with several countries, such as France, Germany, Spain, Italy, Austria, Holland, Belgium, Luxembourg, Croatia, Bulgaria and Hungary. Her films were distributed in over 40 countries in the world.
In 2013 the film Ada produced and Calin Peter Netzerr directed, Child's Pose, was awarded the Golden Bear and the FIPRESCI Award at the Berlinale and brought actress Luminita Gheorghiu a nomination for the European Academy Awards for best actress.
Presently, Ada Solomon continues the collaboration with director Radu Jude, whose feature film Everybody in our Family has brought them both multiple awards, such as the Heart of Sarajevo for Best Film. The two will start production with Radu Jude's third film, Aferim!
Apart from this film, Ada is currently developing 10 other projects – fiction and documentary feature films.
Apart from her activity as a film producer, Ada Solomon is an external expert of the MEDIA programme Executive Agency for Education, Audiovisual and Culture, of the European Comission, a national coordinator for Romania in EAVE, a member of the European Film Academy, a member of the selection comitee for the co-production award of Robert Bosch Stiftung, Managing Director of the cinema chain CityPlex (together with Tudor Giurgiu), founder and distribution director of ParAda Film – a distribution company, founding member and executive director of NexT Cultural Societey and  Next Short and Medium Length Intenernational Film Festival.
The film production masterclass is open to anyone interested in filmmaking, professionals or amateurs, of any age.
The three meetings of the masterclass will take place on March 19, March 27 and April 3, 2014.