CINEMATOGRAPHY MASTERCLASS WITH
DIRECTOR OF PHOTOGRAPHY VIVI DRĂGAN VASILE R.S.C.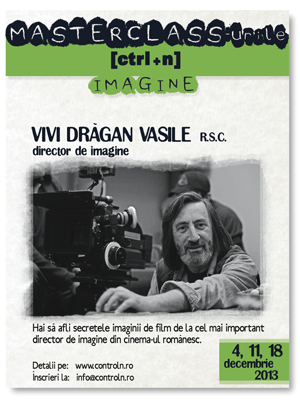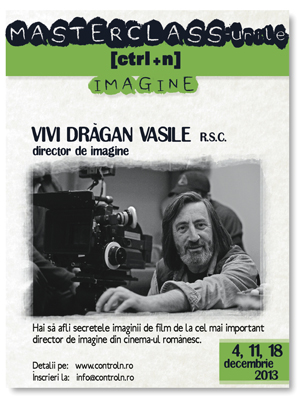 From Morometii  to Filantropica, from film to digital, from the first "Action!" to the first cinema screening.
Combining basic information about film techniques with film history elements, the three meetings of the masterclass aim at offering a general view on the evolution of the cinematography, from the silent films and all the way to the 3D era.
Through examples and screenings of film scenes, important themes will be touched: the relationships between the story and the esthetics of the frame, the justification of choosing a certain shooting style and the work between departments in filmmaking (directing, art directing, make-up, actors).
Participants will learn about the work of a director of photography before the shoot, on set and in post-production and will be able to clarify any type of questions, be they technical or conceptual.
VIVI DRĂGAN VASILE R.S.C
He graduated the National University of Theatre and Film in Bucharest, cinematography department, in 1973. He was a professor in the same university between 1990 and 1994.  He was the director of photography of almost 60 films, both Romanian and international productions. Among his films, important titles like: Drumul Oaselor (1980), Moromeții (1987), Filantropica (2000), Furia (2001), Occident (2001), Nunta mută (2008), Despre oameni și melci (2011); he has worked with directors like Stere Gulea, Cristian Mungiu, Nae Caranfil, Horațiu Mălăele, Radu Muntean or Tudor Giurgiu.
He is the founder of Fundatia Arte Vizuale, a producer and a member of the Romanian Society of Cinematographers.
The three meetings of the masterclass will take place on December 4, 11 and 18, 2013