ATELIERPHOTON
PHOTOGRAPHY ON FILM AND ALTERNATIVE FORMATS COURSE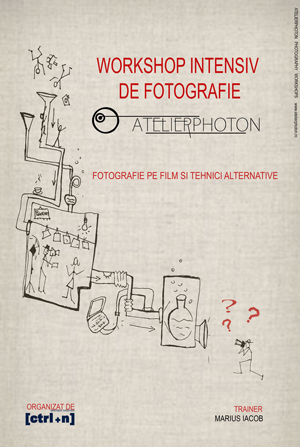 This course is organized in partnership with Atelierphoton and is dedicated to those interested in film photography. The course is held by photographer and cinematographer Marius Iacob.
Through activities that combine general photography theory (exposure, aperture, framing, composition, color etc), with practical activities, the participants will have the chance to discover the technical and artistic means that help obtain a good photography. From the construction of a photo camera to developing and printing photos, there is a long way that everyone interested in photography should take in a practical matter.
Atelierphoton aims at deepening the study of photography and involve its participants in a process that combines creativity and meticulosity. The participants will have the chance to build their own photo camera, in order to better understand the basic principles of photography. Through practical activities, they will individually go through all the stages of obtaining a photo in the laboratory.
With a strong practical side, the course also contains a theoretical part, meant to explain the general notions in photography.
COURSE STRUCTURE
1. General technical aspects about photography. Analyzing different types of cameras, the differences between film and digital photography, lenses, exposure, aperture, framing – 3 hours.
2.Light – types of illumination, illumination techniques. Practical exercises with film and digital cameras, introducing chemical notions. 
3.Exposing and developing a photo film. The construction of a pinhole type of camera. The participants will build their own cameras and will understand the photographic process by doing individual homework. 
4.Practical activities. Participants will exercise using classic cameras and pinhole cameras and will individually work on their photos in the laboratory – 3 hours.
5. Photo lab – obtaining the photo. Lab work – 4 hours.
The participants will be offered all necessary instruments to participate in the course – film, photo paper, lab substances. Owning a photo camera is not a condition to take part in the course.
The date for the next course has not yet been established.