FIRST DRAFT
SHORT FILM SCREENWRITING COURSE FOR BEGINNERS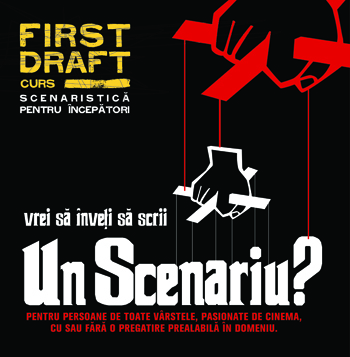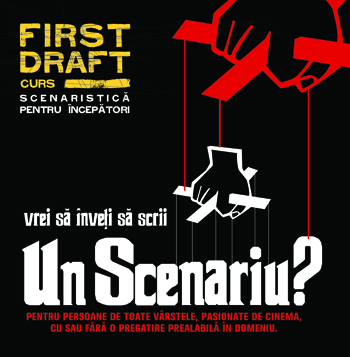 First Draft is a screenwriting course dedicated to people interested in cinema, who do not have previous experience in writing for film. At the end of the 8 meetings, all participants will have basic knowledge on screenwriting, analyzing a script or a film, being able to write their own short film script. The course will be held, by rotation, by screenwriters Oana Rasuceanu and Ana Agopian.
The project addresses people of all ages, with a passion for cinema and interested in the filmmaking process. The 8 meetings focus of the basic part in creating a film – the story. The participants will be guided towards step by step writing of a short film script – the road from idea to premise, characters, structure, formatting.
The course will take the shape of a creative workshop where participants have total freedom of exposing their ideas. They will be guided with professional advice and classical examples of world cinema. At the end of the course, each participant will have a first draft of a short film script in their portfolio.
COURSE STRUCTURE
The theory covered during the course includes notions about developing and analyzing a script (formatting, chosing a subject, characters, premises, goal, protagonist, antagonist, conflict, 3 act structure, dialogue exercises) and information about the steps that need to be taken to producing a script. The course also includes short film screenings and scene analysis.
The theory blends with the practical side. At the end of each meeting the participants receive homework. Their texts are discussed during the meetings or they receive feedback by email. All this homework aims at developing, step by step, a short film script.
Until now, Control N has organized 11 sessions of the screenwriting course for beginners First Draft, in partnership with Fundatia Calea Victoriei, Carturesti and Active Watch.
The date for the next course has not yet been established.