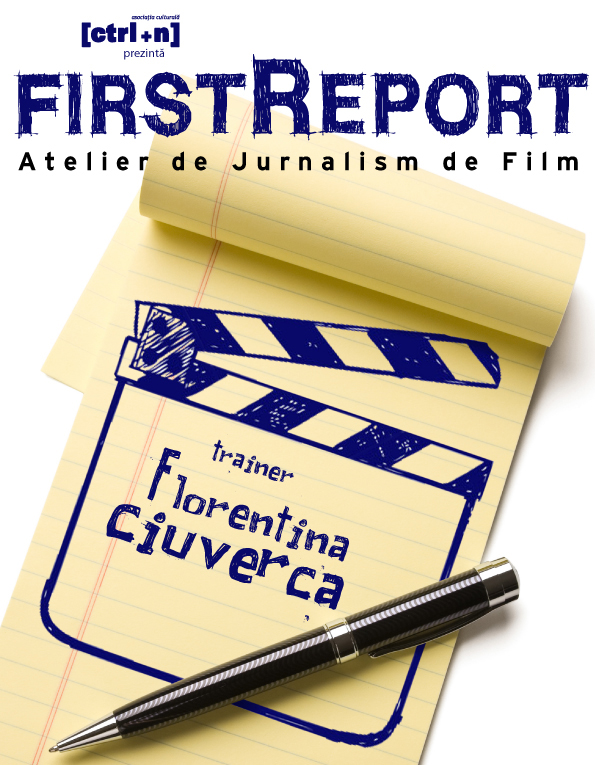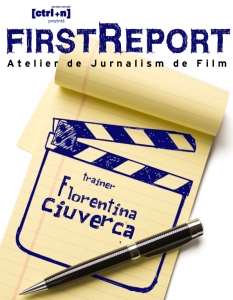 FIRST REPORT
FILM JOURNALISM COURSE
First Report is a film journalism course dedicated to those who wish to understand the mechanism behind the film industry and learn to write about them.
During the 8 meetings, the participants will go through journalistic genres, from news piece to story analysis, investigation, interview, review and will learn details about the best information sources for film journalists, their management, festivals, marketing, film distribution, database analysis, hollywood vs european industry mechanisms, Bollywood and Hollywood, financing, fiscal facilities, casting and filmmaking information.
They will also learn information about the National Center of Cinematography – a history of journalistic investigations regarding the institution, where to start from, how to follow a trace, how to check information, the relationship with your sources. A special attention will be given to the cinema network in Romania, touching the Romanian Cinema Law.
The participants will be guided to use certain tools, specific to film journalism. How to read the box office, press junket in festival, meeting the filmmakers, Q&A vs interview in anglo saxon journalism, managers, agents, PR people – how to manage the relationship with them. General information about text editing, deontology, specific terms used in film.
The discussions and presentations will be completed with homework – news pieces on festivals, interviews, investigations and analysis. The resulted texts will be discussed, edited and published on Filmreporter.ro, in a special section dedicated to this course.
FLORENTINA CIUVERCA
She is a graduate of Al.I. Cuza University in Iasi – Journalism and Communication. She studied Film at the Universidade de Beira Interior in Portugal, with a Socrate-Erasmus scholarship. She made her journalistic debut in 2003 and was a correspondent covering festivals in Cannes, Berlin, and Rome. As a cultural journalist for Evenimentul Zilei, between 2006 and 2010, she was accredited at the Cannes Film Festival, for five editions in a row and made interviews with Francis Ford Coppola, Emir Kusturica, Monica Bellucci, Catherine Deneuve, Costa-Gavras, Michel Gondry, Dennis Hopper, Guillaume Depardieu, Franco Nero, Rutger Hauer, Olivier Assayas, Stephen Frears, Ken Loach and Diane Kruger.
She is a founder and editor of the online film magazine Filmreporter.ro, the first project of this kind which was awarded by the Romanian Critics Association in 2013. One of the most important investigations done by Filmreporter.ro is the series on the National Center of Cinematography, which unveiled the mechanisms behind some questionable financing. In August 2014 she represented Filmreporter.ro in DokuFest International Film Festival in Prizren, Kosovo, as part of a program offered by the Kosovo Foundation for Open Society.

She was part of the nomination jury for the Gopo Awards 2011 and part of the project Education a  l'Image, a program dedicated to teenagers in Romanian highschools. She is the winner of the scholarship Alex Leo Serban, dedicated to young journalists, consisting of an offered participation at the Making Waves Festival in New York, in October-November 2013. As a PR and cultural management specialist she is collaborating with Les Films de Cannes a Bucarest. Transilvania International Film Festival, NexT International Film Festival and Cinepolitica.
She has published articles in "Regard", "Esquire", "Dilema Veche", "Industry", "Suplimentul de cultură", "Adevărul" and others.
The date for the following course has not yet been established.