"GOT DRAMA?"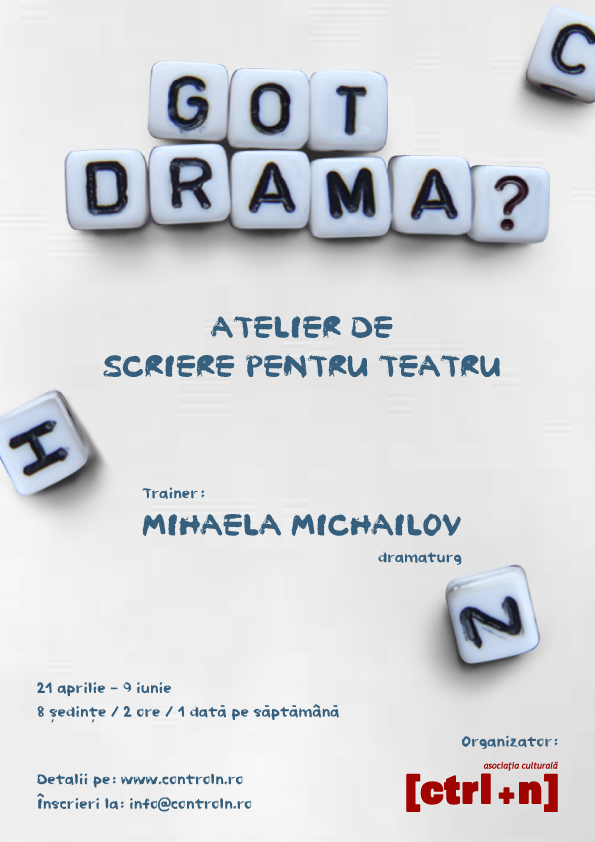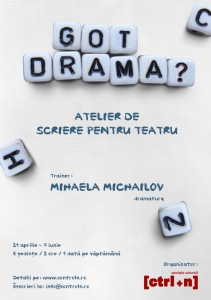 COURSE ON WRITING FOR THEATRE
As a continuation of the writing courses Control N has organized so far (First Draft – screenwriting, First Season – television screenwriting, Punct… – creative writing), Got Drama? is setting up the basis of writing for theatre.
The course addresses all interested in theatre dramaturgy, with or without previous experience. For 8 weeks, the participants will go through the stages of building the structure of a theatre play, resulting in a piece that will be part of their portfolio at the end of the course. All the resulting text will become the basis of a public reading, by professional actors.
Under the guidance of playwright Mihaela Michailov, the course has a strong practical side, all participants will receive individual feedback on the texts developed during the course.
COURSE STRUCTURE
1ST MEETING

Why do we write: How do we chose a subject? How important is it to write about a subject we are very interested in? How do we get close to a complex theme/ What is our perspective? How do we define our subject?
2ND MEETING

How do we structure our story? What are the specific elements for a theatre narration? How do we develop our story according to these elements?
3RD MEETING

Techniques for documenting and observing. How do we observe the details that are relevant for theatre? How do we explore their dramatic significance? What documenting techniques do we use according to the structure of our play/ Why is documenting relevant in constructing the structure of a theatre play?
4TH and 5TH MEETING

Character and dramatic language. How do we build a character? Developing the character, exploring the contradictions and paradoxes, exploring the motivations. Developing dialogues and identifying particularities. Why do characters speak the way they speak? How do we manage to not make them speak  in the same way? Constructing a monologue.
6TH MEETING

Dramatic situation. Action. Conflict. What are the elements that define a situation and how important is it to clarify the situation in constructing a scene? What are the actions that define and identify a character? How do we develop a conflict?
7TH MEETING

Reading the plays and individual feedback for each text. Developing and rewriting some scenes.
8TH MEETING

Final reading of the plays following the feedback.

MIHAELA MICHAILOV
Mihaela Michailov is a playright, critic, community artist, coordinator of several theatre workshops for children and teenagers. Her portofolio includes plays like Complexul România, Interzis sub 18 ani, Capete înfierbântate, Copii răi, Sub Pământ, Familia Offline, Profuˈ de religie, Amintiri din epoca de școală. She has worked with directors Radu Apostol, Alexandra Badea, Alexandru Dabija, Alexandru Mihăescu, Ioana Păun, Bobi Pricop, David Schwartz. In 2013 she coordinated, together with director Radu Apostol, the project Children of the Migration, which led to the development of the text Familia Offline, acted by 9 children and 2 professional actors. She was a beneficiary of scholarships and residences offered by  Royal Court Theatre, Londra and Lark Theatre, New York. Her plays have been translated in Bulgarian, English, French, German, Hungarian. Her play Copii Rai was presented at the 2014 Avignon International Theatre Festival. She is the co-founder of Centrul de Arta Comunitara Varsta 4, within the Moses Rosen Oldage Home. Since 2013 she is one of the coordinators of Gazeta de Arta Politica. She is a univerisity lector at UNATC, where she teaches writing for theatre and pedagogy.
The date for the following course has not yet been established.