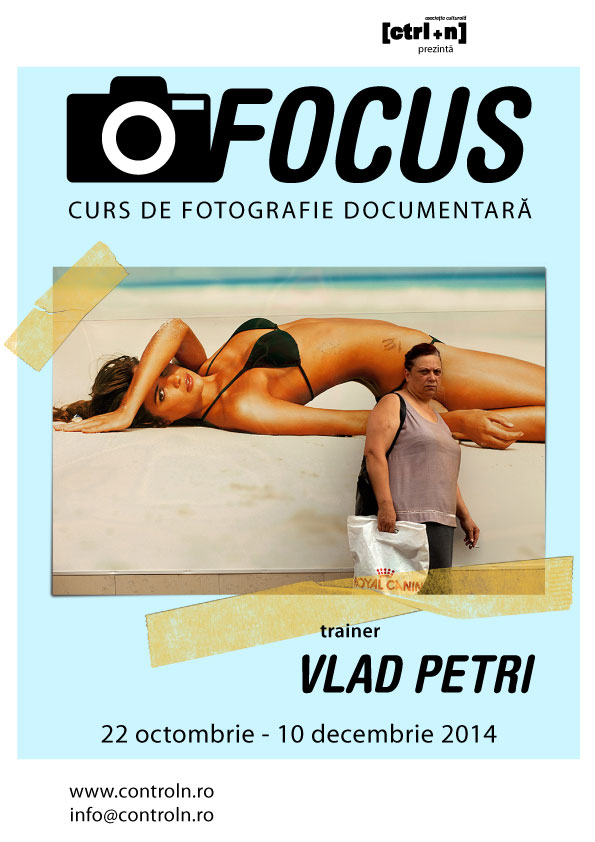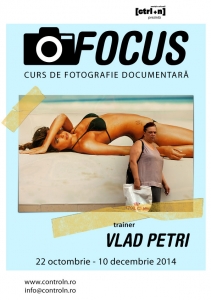 FOCUS
DOCUMENTARY PHOTOGRAPHY COURSE 
Every day we pass hundreds of people and hundreds of stories. What if we stopped and noticed? How far would we go? We invite you to discover and share the stories you find in the people you pass every day.
FOCUS is a practical documentary photography course, held by photographer and documentary filmmaker Vlad Petri. The course aims at discovering the stories of the people in Bucharest. It addresses all those with a passion for photography, with or without previous experience, who which to discover the mechanisms of telling a story through images. Throughout the 8 meetings, the participants will learn to design a photographic project, through practical exercises, homework, meetings with people with experience in photography (photographers, directors, cinematographers), supervised closely by the trainer. At the end of the course, each participants will have their own portofolio consisting of 5-10 photos.
COURSE STRUCTURE
1 General presentation. Introduction in documentary photography. Short history.
2 Introduction in documentary photography technique. Types of cameras, lenses, formats. From film cameras to modern digital photography.
3  How do I chose my subject? Context, perspectives, examples. Street photography – being there at the right time. 
4 Meeting a journalist / photo reporter who will present their own experience and projects.
5. Preparing our own project. Discussing proposals and themes. Examples of famous photography. 
6. Documentary filmmaking and documentary photography – common points, resemblance and differences. The role of the reporter. Press and television.
7. Post-production. Editing techniques. Social-media – share/reach/message dissemination. Exhibitions, art galleries – the necessary steps towards preparing photos for print.
8. Discussing the final projects.
VLAD PETRI
He is a filmmaker and photographer. He is a graduate of the National University of Theatre and Film – Cinematography (2005) and a master in Visual Anthropology and Media (2014) – Freie Universitaet, Berlin. He has worked as a freelancer in documentary projects in countries such as Afganistan, Syria, Jordan, Tajikistan, Uzbekistan, Armenia and Albania. Since 2008 he has participated as a trainer in different film and photography workshops, both in Bucharest and other cities in Romania (Photon, Ideo Ideis, Focus Atelier).
In 2012 he documented the anti-government protests in Bucharest and in 2013 the protest against the explotation in Rosia Montana, constantly posting videos and photos online. In 2014 he finished his first documentary feature film (Bucharest, where are you?) about the 2012 protests. The film premiered at the Rotterdam International Film Festival and was awarded in the Gopo Awards as Best Debut.
His present projects focus on documentary filmmaking and journalism. He is mainly intersted in political and social themes.
In order to take part in FOCUS it is not necessary to have previous experience nor owning a professional camera. 
The date for the next course has not yet been established.