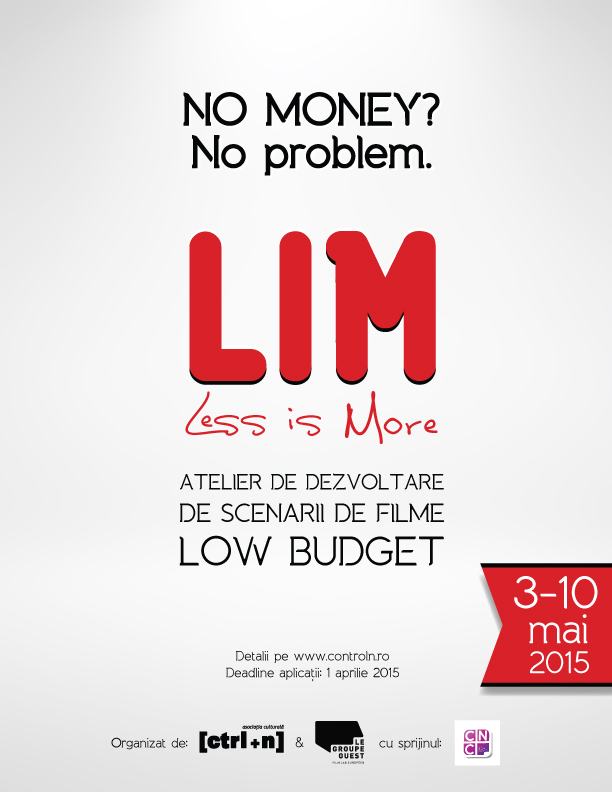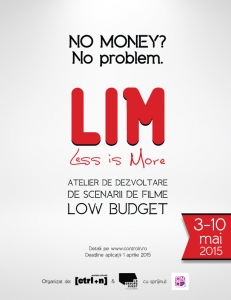 LIM – LESS IS MORE
Development Workshop For Low Budget Feature Projects
WHAT IS LIM?
LIM – Less Is More / Development Workshop For Low Budget Feature Projects addresses young Romanian filmmakers, writers and writer directors who wish to develop their abilities to build a feature film script within the limitations of a low budget production.
The workshop aims not only at identifying and developing these feature film projects, but also at promoting them within the production companies in Romania, thus facilitating meetings between participants and Romanian film producers, by organizing a pitch and by taking a first step towards producing them.
LIM – Less is More is a project developed and organized in partnership with Le Groupe Ouest, the founder of the program. In the spring of 2015, LIM will start simultaneously in France.
WHY LIM?
The idea of organizing a development workshop for low budget feature film projects was born after analyzing a general context, applied to the European film industry and therefore to the Romanian one. In the last years the percentage of low budget films in European cinema has increased considerably. Many of them, screened and awarded at important film festivals, such as Cannes, Venice, Berlin, Sundance or Warsaw are expressing a new reality for filmmakers:
– sources of funding are becoming scarce for independent films in many countries, especially Europe since the financial crisis.
– young filmmakers feel the urgency and need to show their worldview and vision of cinema even with little access to the traditional funding.
– a new generation of shooting and post-production equipment has emerged. Making films with very limited costs is now much easier with low cost digital tools.
– a new generation of filmmakers, used to work with these new technologies and tools, bring a new way of making films. Their cross-disciplinary approach questions the traditional production process and allows smaller and more flexible teams.
– the decline of feature films average profitability questions the issue of their very existence.
As a result, for their own sake, European filmmakers have to experiment new ways: what if lowering the cost of films was a trigger for both more creativity, more profitability, and without putting always the cost-reduction effort on the shooting and post-production team? What if the issue was to write a script within cost constraints, and make it a highly creative and stimulating game for emerging writers and directors?
A powerful story can be told with limited resources if it is thought as such from the beginning. LIM aims at developing powerful stories and bring them to the big screen with a minimum of effort. For writers, directors as well as producers, learning the craft of « limited budget writing, development and story-editing » can become a life-changing experience for their career. The filmmakers learn to develop their crafts and talent with small scale teams and tools, preparing them properly for bigger steps in their careers.
The 8 projects selected in the program will be supported both creatively and by offering them a chance to go into production. We are offering hands-on training and facilitate meetings with Romanian producers, interested in developing valuable projects within a low-budget frame.
LIM STRUCTURE
Participants and Trainers
8 participants – writers and writer-directors from Romania who wish to develop their feature film projects that work within the frame of a low budget film production – coached by 2 experienced script consultants.
Duration
LIM – Less Is More will take place between the 3rd and 10th of May, 2015, in Bucharest. The week of training will end with a project pitching in front of a group of Romanian film producers, invited to the event.
Training
The 8 selected stories will be guided from a synopsis stage (required in the application) to a treatment, which will be written at the end of the workshop.
The most important guideline will be reducing the necessities of the story to a low budget framework, without any compromise in the story structure.
The training methodology will match the one used within the last 5 years by Le Groupe Ouest, which includes both a collective training and a more intimate one, exploring the singularity of each project and participant in the writing process.
At the end of the training days the 8 participants will have the structure of a first treatment for their future project. After the end of the workshop and following a writing period, all participants will have to submit their written treatments, which the organizers will use in following up with the producers invited at the pitch.
The Application and Selection Process
The writers and writer-directors will be selected based on the following materials included in the online application:
– online application form filled in with all the requested information
– feature film project synopsis (maximum 3000 characters)
– motivation letter (maximum 2000 characters)
– 1 previously produced film, based on a script written by the applicant (fiction, documentary, animation, short or feature) – online screener link
– 1 previously written script from the applicants portofolio (short or feature fiction)
ABOUT LE GROUPE OUEST
LE GROUPE OUEST is a European Film Lab established on the coast of western Brittany in 2006, has been involved in 2013 in the coaching of development of 65 feature projects from 19 countries, making it the N°1 place in the French speaking world for coaching writers in development for cinema. The Groupe Ouest script-consultants have been involved from the start with two schemes exploring this new field of script and project development within limited budgets: Biennale College Cinema (Venice Festival) and Cross Channel Film Lab, created in 2010 between France and UK.
The first edition of LIM Romania took place between 3rd and 10th of May, 2015 and was organized with the support of the Romanian National Center of Cinematography and in partnership with Le Groupe Ouest.