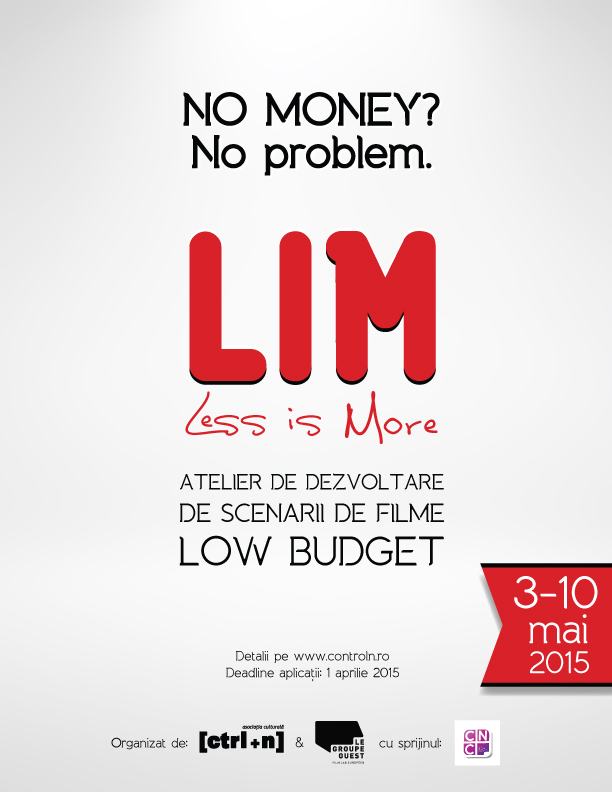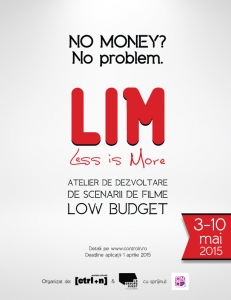 REGULATIONS
Less Is More | LIM
Development Workshop For Low Budget Feature Projects
1. The Development Workshop For Low Budget Feature Projects (LIM) is a screenwriting development workshop for low budget feature film projects, co-organized by Le Groupe Ouest (France) and Control N Cultural Association (Romania)
2. The first edition of the project takes place between May 3rd and 10th 2015 and combines intensive training dedicated to low budget feature film projects and a pitching session in front of Romanian producers.
3. LIM addresses writers and writer directors in Romania, interested in developing a low budget feature film project.
4. Minimum age limit for participation is 18. There is no maximum age limit.
5. The applicants must have at least one film produced, based a previous script they wrote (short/feature, fiction/documentary or animation)
6. LIM offers training in developing a feature film script, starting from a synopsis phase and finalizing with a treatment.
The training will be conducted by 2 script consultants with an experience in low budget film development.
7. The program is structured in different stages: theory, seminars, discussions on each project, group and individual training, pitching training, pitching in front of Romanian producers. Apart from the 7 days session, the program also includes a writing session resulting the treatments.
8. The writers and writer-directors will be selected based on the following materials included in the online application:
– online application form filled in with all the requested information
– feature film project synopsis (maximum 3000 characters)
– motivation letter (maximum 2000 characters)
– 1 previously produced film, based on a script written by the applicant (fiction, documentary, animation, short or feature) – online screener link
– 1 previously written script from the applicants portfolio (short or feature fiction)
9. The selection of the 8 projects will be done by the organizers, based on the documents contained in the application. In the case of multiple writers for one project, only one representative can take part in the workshop.
10. The workshop will be in English. English knowledge (spoken and written) is mandatory.
11. The participation fee is 50 euros. The fee is paid upon the selection.
12. The food expenses (lunch) and accommodation (for participants residing outside Bucharest) will be covered by the organizer, throughout the duration of the workshop.
13. All applications must be submitted online until 23:59 of April 1st 2015. Any application received after that moment will not be taken into account.
14. Submitting an application implies having read and accepted the program regulations.